Preventing major stroke in high grade carotid artery stenosis: A case report
Dr. Ganesh Veerabhadraiah is a dedicated Neurosurgeon in Bangalore having 17 years of rich experience in the held of Brain, Spine and Neuroendovascular surgery. His passion is micro neurosurgery and cerebrovascular and endovascular.  He is rigorously working round-the-clock with an intention to provide quality neuro care for all the needy through his excellence.
significant despite medical therapy. Early diagnosis plays a vital role in suffering from hypoperfusion.
Stenting plays an important role in re establishing the brain blood flow in case of high grade carotid stenosis refractory to medical treatment and preventing major stroke.
CASE REPORT
Introduction:
Celebral Hypoperfusion is a condition happens due to insufficient supply of blood and oxygen to the brain. Intracranial Atherosclerosis (ICAD) is a pathological condition where there is a narrowing of arteries due to accumulation of cholesterol plaque arterial wall. It causes reduced blood supply to brain which leads to cerebral hypoperfusion and stroke.
Case details:
A 65 year old man was brought to Fortis Hospital, Cunnigham road with chief complaints of weakness in the right side of the body along with frequent fainting attacks and he had a past history of diabetes and hypertension. He was diagnosed to have reduced blood supply to the left side of the brain. It was the result of the narrowing of the channels (arteries) that connect the heart to the brain.
MRI scan of the brain with perfusion scan showed that the patient had an inadequate flow of blood in the brain and narrowing of carotid artery at two places due to which he was at a high risk of getting major stroke and which should have caused even death. Owing to the severity of the condition, neurosurgeon recommended the patient to undergo intracranial stenting. The stenting helped in managing and normalising the blood flow to the brain. We did pinhole surgery / endovascular surgery to approach the brain vessels. through small puncture of femoral artery in the thigh. As he had narrow blood vessels in the neck and brain. Both these problems were addressed at the same time through stenting. The patient was suffering from cerebral hypoperfusion syndrome due to intracranial severe atherosclerosis.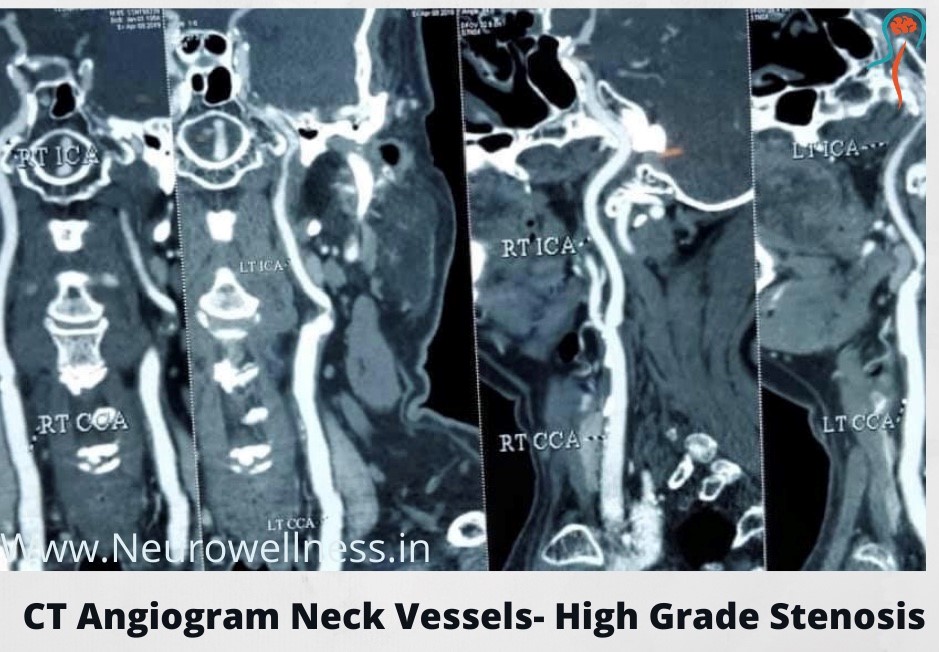 The team of neurosurgeon, neurologist, endovascular surgeon successfully treated by intracranial stenting at two places of brain vessels at the same time on the patient to reduce the risk of major stroke. Fortunately, the patient. withstood the entire procedure and there were no complications post. procedure. The patient is doing well now.
Discussion:
Stroke is a leading cause of adult disability, Intracranial stenosis is the narrowing of
major Intracranial arteries due to the build-up of atherosclerotic plaque. The standard medical therapy for patients with intracranial stenosis includes the use of
antithrombotics, statins, antihypertensives and risk factor control .The risk of recurrent stroke in patients with high-grade intracranial stenosis.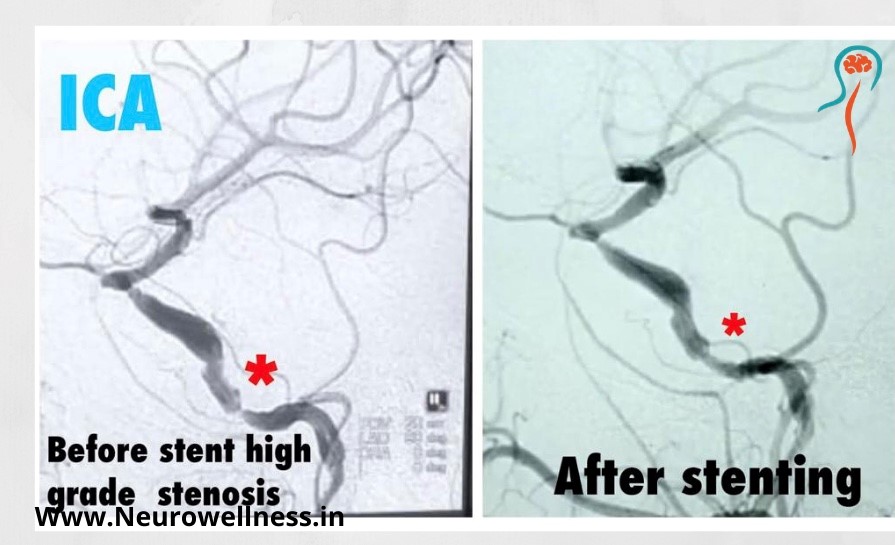 Reference:
The American Journal of Medicine: https://www.amjmed.com/article/S0002-9343 (06)00186-0/abstract
NCBI- https://www.ncbi.nlm.nih.gov/pmc/articles/PMC4640326/ AHA journal: https://www.ahajournals.org/doi/pdf/10.1161/01.STR.24.11.1691
Clinical Newsletter
Courtesy
Fortis hospital
Cunningham Road
Bengaluru
Contact –
7349017701
M.B.B.S., DNB – Neurosurgery FINR – Fellow Interventional Neuroradiology, Switzerland Consultant Neurosurgeon – Brain and Spine Neuroendovascular Surgeon.
I'm Dr Ganesh Veerabhadraiah a renowned Neurosurgeon in Bangalore – Brain and Spine and Interventional Neuroradiology/Neuroendovascular specialist, currently heading Fortis Hospital, Cunningham Road, Bengaluru. After completing his MBBS, Dr Ganesh went ahead with DNB in super speciality post-graduation degree Neurosurgery at the prestigious Manipal Hospital.